One World; Infinite War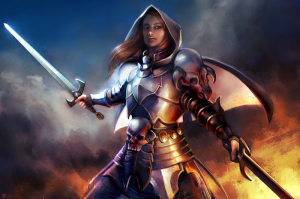 Aethersteel is a table top miniatures game where you and your friends are transported to a world where anything is possible. Where gods and men join forces and where your only limit is your imagination. Customize your army by mixing together different commanders, units, and powerful cards to create a unique and powerful force. Then face off against your friend's army and deck. Your commanders are empowered by their deities, bringing with them powerful battlefield shaping spells and abilities that will leave your opponents struggling to stay one step ahead of you.
Aethersteel combines the tactics of a tabletop wargame with the excitement of a customizable card game, all into one dynamic and replayabile strategy game. As you continue to play you can expand your deck and army with additional units, specialty cards, and seek to dominate the battlefield in ever changing ways.
Think you have what it takes to enter the waygate?
---